Name
Piri
Nationality
Thailand
Course
Chef Training Course 2-months
2014/4/7 ~ 2014/5/30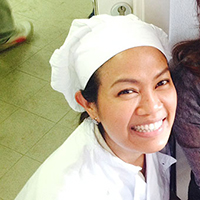 It's been another productive week for us.
This week we went to Parma to study how parmigiana cheese and prosciutto are made in the factory. It was really interesting!
Studying in a moutain of parmigiana was for sure an experience of a life time.
In our cooking lessons, we had a sausage making day, a pizza day and the last one of this week was dessert making.
Such a sweet and happy ending!
I have never thought I would be able to make homemade sausages by myself.
Oh… What a hard work though…
I had to mix the meat together with spices and beated all ingredients with my 2 hands untill everything became one big meat ball.
Apart from gaining some sausages, I did grow some more muscles on my arms too.
We went to a pizza kitchen for our pizza lesson. What a fun day.
Baking pizza the way we liked it and refreshed ourselves with some good beer in the Spring afternoon was just awesome.
We had 2 Sommerlier classes this week. They were fun and fascinating as always. I love learning about the production of the wine and getting to know wine's character.
It's amazing how a glass of wine can tell you the altitude, the weather, the surrounding of the region it came from.
I now opened the bottle of wine like openning a love letter from the wine producers.
Next week we will have a cooking compettion!!
No help from our professor, we need to know everything by heart.
I'll do my best and have fun with every minute of our last class.
It's tough but it's all about the right attitude.
I'm sure it's gonna be a great day.
ตอนนี้เป็น เดือนที่สองของการมาเรียนทำอาหารอิตาเลี่ยนที่ฟลอเร้นซ์แล้วค่ะ
เวลาผ่านไปไวเหลือเกิน เราเรียนกันหนักมาก อาทิตย์ละหกวัน
บางวันก็เรียนสิบกว่าชั่วโมง แต่ไม่เป็นไรเลย
เพราะฉันได้ทำสิ่งที่ฉันรักมากๆคือเรียนภาษากับทำอาหาร ถึงจะเหนื่อยก็สุขใจ
นึกถึงภาพดีๆที่ตัวเองได้ทำอาหารให้พ่อแม่ทาน
ทำอาหารอร่อยๆที่ทำให้ผู้คนมีความสุข
กลับไปสอนที่เมืองไทยเพื่อตอบแทนบุญคุณแผ่นดิน
ต่อให้เหนื่อยกว่านี้ก็ทนได้ ยิ้มสู้เสมอค่ะ
เราไปเยี่ยมชมโรงงานทำพาร์เมซานชีส กับโพรชุสโต้ที่เมืองพาร์มากันมา
ระหว่างทางได้เห็นดวงอาทิตย์ขึ้นที่สวยมากๆ เมืองอะไรเนี่ย อาหารอร่อย
ผู้คนน่ารัก แล้วจะไม่ให้ตกหลุมรักทัสคานี่ได้ยังไง
ขอบคุณตัวเองจริงๆที่ตัดสินใจมาเรียนที่นี่ ทุกๆวันช่างเป็นวันแห่งความสุข
อาทิตย์นี้ เรียนทำไส้กรอก ทำพิซซ่า แล้วก็ทำขนมหวานเป็นคลาสสุดท้าย
ช่างเป็นการปิดคอร์สอย่างสวีท เอ็นดิ้งจริงๆ
เรียนทำไส้กรอก ต้องเอาสองมือบดเนื้อเองจนส่วนผสมทุกอย่างเข้ากัน
ครูไม่ให้ใช้เครื่อง จะได้ทำเป็นจริงๆ
แหม่… กว่าจะเสร็จนี่กล้ามขึ้นเป็นมัดๆเลยค่ะ
เรียนทำพิซซ่าก็สนุก ตอนแรกนวดแป้ง ทำออกมาเบี้ยวโบ๋น่าชัง ครูดุเลย
แต่ก็สู้ ฝึกทำจนได้นั่นแหละ อร่อยมากด้วยนะ
บินข้ามฟ้ามาครึ่งโลกจะยอมแพ้กันง่ายๆได้ยังไงหละคะ จริงมั้ย?
วิชาไวน์ก็สนุกขึ้นทุกวัน ไม่เคยรู้มาก่อนเลยค่ะว่าไวน์หนึ่งแก้ว
จะบอกอะไรได้ลึกซึ้งถึงถึงชีวิตของชาวไร่ผู้ผลิต การจิบ การดม
สามารถบอกได้ว่าไวน์ขวดนี้ปลูกที่ภูมิอากาศยังไง ภูเขา หรือทะเล
บุคลิกไวน์แบบนี้ควรดื่มคู่กับอาหารอะไร
มันสนุกจริงๆ วิชาไวน์เป็นหนึ่งในวิชาที่คนเรียนกันไม่มีวันจบ
อาทิตย์หน้า คลาสสุดท้ายจะเป็นการแข่งขัน ครูจะไม่ช่วยเลย เราต้องจำสูตร
ส่วนผสม วิธีทำให้ได้ทั้งหมด แค่คิดก็สนุกแล้ว
อาหารจะอร่อยรึเปล่าไม่รู้ แต่ที่รู้คือต้องได้ขำกันน่าดูแหละ
ยิ้มสู้ค่ะ!!!!
Florence, 25/05/2014