english
Christmas Course - FCAS Florence Culinary Arts School -
Special Dishes for Special Day - Enjoy a wonderful Italian Christmas time while learning how to prepare some of Italy's most delicious traditional dishes.
Christmas cuisine includes special dishes such as turkey, Cotechino con lenticchie, or Pandoro cake, etc. they dress up the Crhistmas table and contribute to the special day.
Our Christmas course, at each lesson you will learn a course dishes with 4 – 5 home cooking recipes including such special dishes. The course will include appetizer, first dish (pasta, risotto, etc.), second dish (main dish), side dish, and dessert.
TRADITIONAL ITALIAN CHRISTMAS MENU
Crostini di fegatini: chicken liver patè on toast
Ravioli con brodo di cappone: small square parcels of pasta filled with capon meat with capon soup
Cappelletti con brodo di pollo: small square of pasta containing mixture of meat, cheese or vegetables with chicken soup
Arrosto di faraona: roasted guinea-hen
Linguine con cozze: a kind of pasta in the shape of thin flat strands with mussels
Cannelloni: tubular pieces of pasta filled with meat, cheese or vegetables
Cotechino con lenticchie: low heat boiled pork sausage with lentils
Cappone ripieno: capon filled with mixture of meat, ham, parmesan and vegetables
Cavallucci: pastry made with anise, almond, candied fruits, coriander and flour.
Ricciarelli: traditional Tuscan biscuit made with almonds, sugar, honey and egg white.
Sweets made with Pandoro and Panetone(two most traditional Christmas sweet).
Zabaione al Marsala: made with egg yolks, sugar and with Marsala (sweet wine)
* Actual lesson menu can be different from the sample menu.
Don't worry about the language!

Lesson interpreter with various languages (English, Chinese, French, Spanish) will help you during the lesson.

Cultural Visits

Share the unique Italian experience with other students through visit to various interesting locations such as world's heritages, "Chianti Winery" and/or our unique "Pizza lesson".

Variety of course duration

Choose your course duration from 1, 2, 3 weeks.

Bus Tickets

Reach the kitchen by riding the convenient public buses.

Art Visit

Discover the great masterpieces of Italian Renaissance through guided art visits. Great experience to live and study in Florence surrounded by the treasure of history and art.

Housing

Housing (twin room) is included in the fees. Enjoy your school life with new friends!
Course Detail & Schedules
Course Detail
Course includes
Enrollment Fee
4 home cooking lessons/week (1 lesson = from 2 to 3 hours plus tasting and clean-up time)
Ingredients cost and a glass of wine (additional drinks are available with additional cost)
Central Food Market visit (1 time)
Full time interpreter during the lesson
Bus tickets
Meal vouchers (*2 daily meal vouchers a week + 2 Coffee/tea/mineral water vouchers a week).
Weekly guided Art Visits
Cultural Visits (such as making pizza, gelato, and more. Once every 2 weeks).
Entrance fees to places of the visits we offer.
Housing in shared apartment (single room available)
Utilities costs
Heating cost
Handling charge
Transferrable credits
Not Included
- Flight tickets
- Transportation cost not related to the lessons
- Personal expenses (telephone calls, souvenirs, etc.)
Optional
- Accommodation single room additional fee:
200 Euro for 1 week, 240 Euro for 2 weeks, 270 Euro for 3 weeks, 300 Euro for 4 weeks

- Housing extension fees:
(if you want to stay in our shared apartments for a period over the course duration)
1 week: 150 Euro / 2 weeks: 300 Euro /
3 weeks: 450 Euro / 4 weeks: 600 Euro

- Airport sending (1-way from accommodation to the airport): 160 Euro
Schedules
Day
1 week course
2weeks course
1st
week
Sun.
Arrival in Florence
Arrival in Florence
Mon.
Food Market Visit, Lesson
Food Market Visit, Lesson
Tue.
Lessons
Lessons
Wed.
Lessons
Lessons
Thu.
Lessons
Lessons
Fri.
(AM) Art visit
(PM) Cultural visit
(AM) Art visit
(PM) Cultural visit
Sat.
End of 1 week course, Return Home
Free time
2nd
week
Sun.
Free time
Mon.
Lesson
Tue.
Lessons
Wed.
Lessons
Thu.
Lessons
Fri.
(AM) Art visit
Sat.
Free time
You can stay up to 4 weeks.
Please refer to the left for additional charge
*The course schedule is subject to change without prior notice due to the school or the professor's problem. Please check the final schedule. For further details, please consult Accademia Riaci Information Center.
Example of Accommodation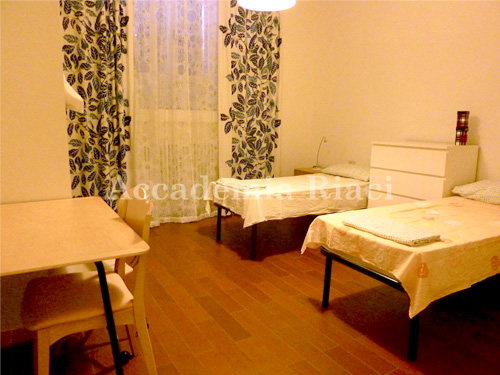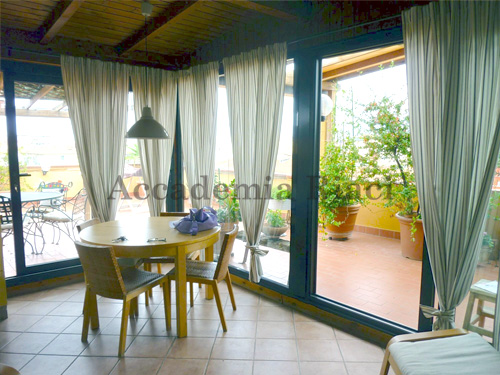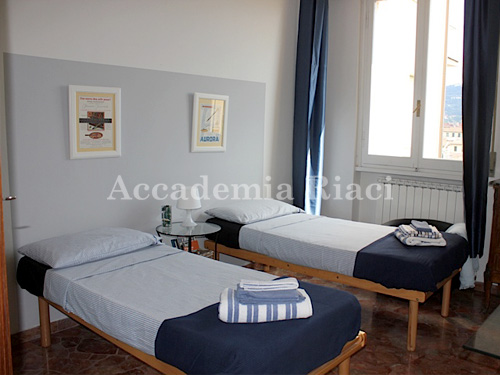 Christmas Course 2023 Schedules & Prices
Check the course code on the left side of the course schedule you are interested in.
Code
Dates
Home Cooking
WA1
start on Nov.26
(*Check In date)
1week lesson
€1,600
WA2
1week lesson + 1week stay
€1,750
WA3
1week lesson + 2week stay
€1,900
WA4
2week lesson
€2,600
WA5
2week lesson + 1week stay
€2,750
WA6
3week lesson
€3,600
WB1
start on Dec.3
(*Check In date)
1week lesson
€1,600
WB2
1week lesson + 1week stay
€1,750
WB3
2week lesson
€2,600
WC1
start on Dec.10
(*Check In date)
1week lesson
€1,600
Apply
© 2013 - FCAS - Florence Culinary Arts School.