Name
Piri
Nationality
Thailand
Course
Home Cooking Course 4weeks
2014/6/2 ~ 2014/6/27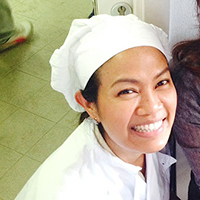 The 1st week of my Toscana Home cuisine couse has started. After the 2
months of real hard work in the intense professional chef course, cooking
in a Granny's kitchen is a total relaxation to me.

We cooked 4 dishes a day and had that home made meal together.

Changing from Cooking in a big professional kitchen to a homey kitchen is

a different experience.

But I do love both.

One lazy afternoon, I baked an apple tart and let it sit on the window

frame to cool down.

Outside the window was a blooming rose garden. I could see the green hill

with Cypress trees in the back ground. Listening to Nonna's vintage

music, with the scent of apple and vanilla freshly baked tart lingering

in the house, I was at ease.

Happiness is really simple.
เผลอแพร๊บเดียว เรียนจบได้ดิโพลม่าเชฟอิตาเลี่ยนมาแล้ว อาทิตย์นี้

เริ่มเรียนเฉพาะอาหารทัสคานี่

พื้นที่นี้อุดมสมบูรณ์ มีสวน มีไร่องุ่นมากมาย มีแดดดี

มีฟลอเร้นซ์ที่เป็นเมืองแห่งเรอเนสซองค์ รุ่มรวยงานศิลป์ งานฝีมือ

เพราะฉะนั้น เราว่าเชฟทัสคันก็รับอิทธิพลความอุดมสมบูรณ์

เหลือเฟือจากสิ่งแวดล้อมมาเต็มๆ แล้วกลั่นมันออกมาเป็นอาหารจานอร่อย

ที่เลือกมาฝึกวิชาอยู่ที่นี่

นี่หละ คิดถูกแล้ว

อาทิตย์นี้มาเรียนที่บ้านครู ครูเฟียมเมทต้าเป็นคุณย่าที่ทีฝีมือการทำอาหาร

เคยเขียนตำราอาหารทัสคันด้วย บ้านครูมีงานศิลปะสวยๆเต็มเลย

สวยมากโดยเฉพาะภาพวาดสีน้ำมันฝีมือสามีครู ฝีมือระดับอาจารย์ ก่อนเริ่มเรียน

ฉันยืนชมภาพวาดทุกวัน

อื้มมมมม งามชื่นใจ

ทำอาหารในครัวบ้านครู เป็นอีกประสบการณ์ที่แตกต่างไปมากจากคอร์สที่แล้ว

จากครัวมืออาชีพ มาเป็นครัวบ้านๆ ไม่รีบร้อน ทำไป คุยไป

ฟังเพลงสมัยย่ายังสาวไปด้วย เพลินๆ สบายใจดี

ฉันอบพายแอปเปิ้ลแล้วครูก็ให้เอาพายไปวางบนขอบหน้าต่าง จะได้เย็นลง

ข้างนอกเป็นสวนเล็กๆที่มีดอกกุหลาบบานเต็มไปหมด

มองเลยข้ามหลังคากระเบื้องอิฐโบราณไปสุดสายตาเป็นเนินเขาที่มีต้นสนไซเปรสอยู่

เป็นระยะ

บ้านหอมอวลกลิ่นพายแอ้ปเปิ้ลกับวานิลา กับเสียงเพลงของแนท คิง

โคลลอยมาจากห้องนั่งเล่น

อืมมมม รู้สึกดีจัง

ความสุขเป็นเรื่องง่ายๆแบบนี้เอง
Florence, 07/06/2014