Name
Piri
Nationality
Thailand
Course
Chef Training Course 2-months
2014/4/7 ~ 2014/5/30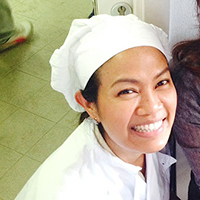 This week has been really special to me.



We started off the week with a visit to a wine cellar. It was a perfect day under the Tuscan sky. The day was fresh and sunny. The garden was full of roses and herbs.I could smell rosemary and lavenders while we were walking in the garden. Such a relaxing atmosphere to study wine and olive oil making. Now I know the differences of extra vergin olive oil and normal olive oil. It takes up to 300 kg of olives to get 40 liters of olive oil!
Then we did some wine and olive oil tasting. Yet after the class we all had some gelato together. What a fantastic day.



The next day was our last cooking class and it was an exciting one as it was the competition day.
That day was really so much fun. We tried our best to create the best dish. Professor Francesco wouldn't help us and we weren't allowed to read the recipes. That meant we had to know everything by heart. It was challenging but we all did very well.

In the evening, we had our graduation party. Professor gave us our certificates in a lovely restaurant. The ambience was awesome.

It's been a great 2 months of hard work and a fantastic experience. I was really proud of my achievement.



We made a Thank you card for our teacher and gave her a little present. Last night we had our good bye party that we all broke into tears.

It's really emotional not to be together anymore but we all are going for our better future and to make our dream comes true.

I told my friends " Kambatte" and " Keep smiling". It's been great and we have all the great things waiting for us.

So keep smiling and keep walking toward our success.



I'm very content and grateful with the course I studied , people I met.

Now I'm looking forward to the Tuscan home cuisine course in June.

Tuscany has so much to offer.

I can feel something great is coming soon again.
สองเดือนผ่านไปไวเหมือนโกหก จะว่าไปปีนี้ มีหลายๆเรื่องที่ไม่น่าเชื่อเกิดขึ้นในชีวิตเยอะเหลือเกิน

ตั้งแต่ลาออกจากงานมาเรียนอยู่ฟลอเร้นซ์ ชีวิตเปลี่ยนไปแบบหน้ามือเป็นหลังมือ

จากชีวิตในทะเลทรายที่ดูไบ ทำงานบนฟ้า มาเดินอยู่ในเมืองโบราณเล็กๆในหุบเขา

เรียนบางอย่างที่เรารัก มันเหมือนความฝัน แต่มันก็เป็นฝันที่เป็นจริง ฝันดีๆ ที่เราทำให้มันเกิดขึ้นมาด้วยตัวเอง

ยอดเยี่ยมที่สุดเลย



อาทิตย์ พวกเราได้ไปเรียนวิชาทำไวน์ กับ โอลีฟ ออย ในปราสาทโบราณกลางสวนสวย มีกุหลาบบานสะพรั่ง ฟ้าใส อากาศสดชื่น

ได้เดินดูงานในโรงงาน ชิมไวน์ ชิมโอลีฟ ออยหลากชนิด เรียนเสร็จก็นั่งกินเจลาโต้กัน ชื่นใจสุดๆ



คลาสสุดท้ายของการเรียนเชฟ เป็นการแข่งทำอาหาร ห้ามเปิดสมุดจดดูสูตรเด็ดขาด ครูก็เดินดูอย่างเดียว ไม่ช่วยใดๆทั้งสิ้น

กลัวที่ไหน??? เพราะเราก็เตรียมตัวมาดี สองเดือนที่ผ่านมาก็ตั้งใจเรียน วันแข่งก็ตั้งใจทำอย่างดีที่สุด

ครูชมว่าพาสต้าหอยลายใส่แอสพารากัสของเราอร่อย และจัดจานสวยมากด้วย

ตอนเย็นก็ไปเลี้ยงฉลองเรียนจบกัน สนุกมากเลย หัวเราะท้องแข็งกับเพื่อนๆ



แต่งานเลี้ยงต้องมีวันเลิกลา แล้วก็ถึงเวลาที่พวกเราต้องแยกจากกันไปตามทางของตัวเอง บางคนก็ไปฝึกงานริมทะเล

บางคนไปโรงแรม กระจายกันไปทั่วอิตาลี ตัวฉันอยู่เรียนอาหารทัสคันต่อที่ฟลอเร้นซ์

ประสบการณ์ทุกอย่างที่เกิดขึ้นที่นี่ มันมีความหมายมากๆกับฉัน มิตรภาพ ความรู้ การเติบโตของตัวเอง

สตีฟ จ๊อบ บอกว่า เรามองย้อนกลับมาดูสิ่งต่างๆที่เกิดขึ้นในอดีต แล้วจะเข้าใจว่าทำไมสิ่งนี้ต้องเกิดขึ้น

พระพุทธเจ้าสอนว่า ความบังเอิญไม่มีในโลก

ฉันไม่รู้หรอกว่าทำไมฉันต้องมาเป็นคนไทยคนเดียวในห้องเรียนญี่ปุ่น

รู้แต่ว่าฉันทำดีที่สุด ฉันมีความสุข ขอบคุณทุกสิ่งทุกอย่าง

และจะเก็บความรู้สึกดีๆนี้ไว้เป็นพลังเพื่อสร้างสรรค์สิ่งดีๆต่อไปในอนาคต



เดือนหน้าไปเรียนทำอาหารทัสคานีกันนะคะ
Florence, 31/05/2014