Sommelier Course




This sommelier course is included in the professional chef training course.
Sommelier Course (with interpreter in English or Spanish)
You will taste various wines typical to each region of Italy, with lecture from professional Sommelier. You will also learn how to choose wines, how they are made, difference of grapes, how to taste, how to handle them, how to serve them etc. You will learn combination with foods, visit the winery in Tuscany, etc. to gain comprehensive knowledge on Italian wine.
Program
*Program is subject to change without prior notice.
・Sommelier class 3 times – 2 hours each class
・Winery Visit with Wine tasting
・Agritourism visit with Wine tasting
・2 Italian language lessons per week (1 lesson = 45 minutes)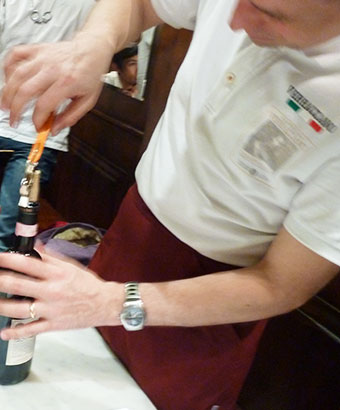 Sommelier Course
2019/2020
Term
Program Fee
Starting date
Max. number of students
(Min. number of students)
Sommelier Course 1-week
€1,400
May. 11, 2019
Oct. 26, 2019
May. 9, 2020
Oct. 31, 2020
12(5)

■Starting date
May. 11, 2019
Oct. 26, 2019
May. 9, 2020
Oct. 31, 2020

■Costs included in fees

Enrollment Fee
Wine Tasting
Sommelier Training
Winery Visit
Accommodation (room with 2 or 3 beds )

City tour
Free Italian Language Lessons - 2-lesson(45min/1 lesson)
Interpreter
Procedural fee

■Costs not included in fees

Round-trip airfare
Transportation fee within the city
Personal expense(for meals, allowance, telephone, utility bill, gifts, and others)