ITALIAN HOME COOKING























Home Cooking: the Essence of Italian Gastronomy
In today's society, dominated by fast-food culture, discovering the diversity of the ingredients and appreciating their natural smell and flavor reminds us of what the real culinary arts are.
"All the ingredients are blessing from nature, and we appreciate each ingredient's flavor as it is. That's the basics of Italian cooking", says one of the Italian Home Cooking instructors, Ms. Gaia.
In Italy, love and respect for nature are the origin of all handmade products – whether it is culinary arts or plastic arts.
Home-cooked meals are always delicious and filled with warmth. The recipes handed down from parents to children represent the taste of the family. It is something that cannot be learned in a large sterile kitchen of a school.
The dishes are prepared quickly using fresh and natural ingredients, with just some seasoning measured by eyes, but their taste is so special as no restaurant could offer.
Italian Home Cooking is not just about learning recipes; the spirit of sharing a good time is a crucial element of each meal. In a typical Italian home, there is always plenty of food to accommodate even unexpected guests and spend enjoyable moments together.
Italian Home Cooking program represents a unique opportunity to experience such an Italian spirit directly and to re-discover the real fragrance of fresh ingredients and the preciousness of the time to share and enjoy life together.
Some reasons on why FCAS Italian Home Cooking is different from other cooking courses.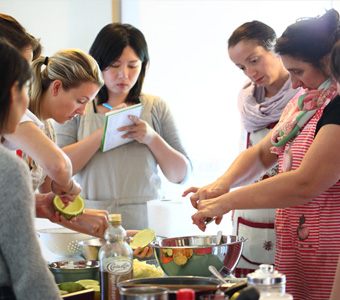 1. Lessons are held 4 days/week 3-4 hours each day. In just a month, students can learn and practice up to around 65 recipes.
2. Lessons are held in a small group of max 12 participants, followed by a lunch (or dinner) together. Participants will also visit the Central Market of Florence guided by their interpreter to get familiar with the Italian fresh ingredients.
HOME COOKING INSTRUCTORS
Our cooking instructors are not just any Italian "mamma", but they have rich experience in the culinary field and in teaching international students from all over the world. They will teach not only a variety of recipes but also will help students broaden their cultural knowledge. Lessons are held in their own home kitchen outside the busy city center, giving participants the best opportunity to learn authentic Italian homemade cooking in a comfortable, quiet, and pleasant environment.
SMALL CLASS SIZE
The course takes place in a small group of participants. Since classes are taught by different instructors in their own kitchens, the class size will not exceed 12 students per instructor.
Italian Home Cooking – Tuition & Fees
2023/2024
Term
Fees
Start Dates
Max. number of students
(Min. number of students)
1-week program
€1,600
Every Monday
1~12 (1)
2-week program
€2,500
1~12 (1)
3-week program
€3,200
1~12 (1)
4-week program
€3,800
1~12 (1)
8-week program
€6,600
1~12 (1)
12-week program
€9,900
1~12 (1)

■Starting date
Every Monday

■ Course fees include:

Costs of registration.
Lunch or dinner after each class.
Guided tour to the "Central Market" of Florence.
English interpretation service.
Housing in a shared apartment - twin room (single room available at an extra cost).
Housing utility costs.





■ Not included:

Round-trip airfare.
Transportation costs.
Personal expenses (for meals outside class, telephone, etc.).




■Attending lunch after the lesson: 50 euros per time
(only for persons who didn't take the lessons but accompanying the student who did it).

* Fees without housing are also available. Please inquire.