BARISTA COURSE



In Italy, you can find bars at every corner of the city as an indispensable part of Italian daily life. Many people go to coffee bars several times a day; before going to work in the morning, for breakfast, during a break from work or study, to have a light meal, or to chat with friends bumped into on the street, etc. It´s said that there are as many as 150,000 bars in Italy, and almost all Italians have their favorite bar.

A quick stop at the bar counter and drinking espresso in one gulp this is the genuine Italian style. Most coffee bars in Italy are run by local individuals, and they're ideal places for all Italians who love coffee and talking. You can always find bars filled with Italians talking with a cup of coffee in hand. At a bar, they do not only serve "Caffè", "Macchiato" or "Cappuccino" but also cocktails, "panini" (sandwiches), sweets, ice-cream, as well as gifts, etc.
Overview
"Barista" is an Italian word that means someone who makes and serves coffee and coffee drinks (such as cappuccino) to customers. In Italy, the center of a "bar" (cafe) is the espresso machine, so the barista is identified with his ability to brew a great coffee. In our Barista Course, you will learn the necessary skills to be a barista in just 1 or 2 weeks.
1-WEEK PROGRAM
・History of coffee and geographic differences
・Knowledge of coffee beans (about plants, cultivation and processing)
・Knowledge of coffee after processing (roasting, production and blending)
・How to use a professional coffee machine and its maintenance
・"Latte Art"
・Exploring and comparing coffee flavors from all over the world
・Learn how to make the traditional Italian-style coffee such as "caffè macchiato", "caffellatte", "espresso", "espresso doppio", "caffè corretto", "latte macchiato", etc.
・The ultimate "cappuccino"
・Coffee factory guided visit
2-WEEK PROGRAM
・All of the above + …
・About the "latte art championship"
・"Mochaccino" using syrup and chocolate
・Basic cocktails
・Coffee cocktails
・Coffee around the world
・How to prepare several other Italian drinks and beverages
・Tableware shop guided visit
*Please note that the program above is subject to change.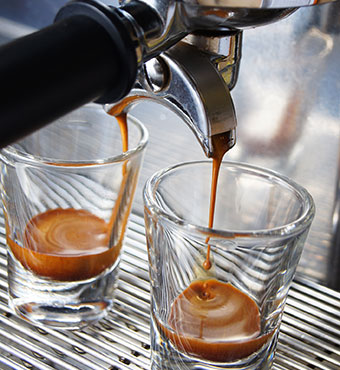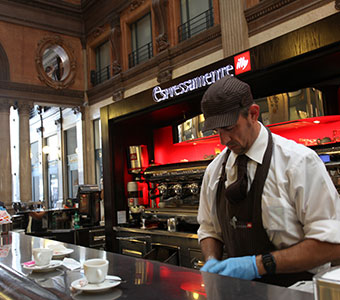 Barista Course
2022/2023
Term
Fees
Start Dates
Max. number of students
(Min. number of students)
1-week program
€1,900
Every Monday

10(1)
2-week program
€3,400
10(1)

■Starting date
Every Monday

■Costs included in fees

Barista training(2 hours x 3 days per week, total 6 hours.)
Accommodation (room with 2 or 3 beds)
Interpreter (2 hour/1 lesson)
Materials for barista training
Procedural fee

■Costs not included in fees

Round-trip airfare
Transportation fee within the city
Personal expense(for meals, allowance, telephone, utility bill, gifts, and others)
Course Schedule – Sample
The schedule may change depending on the school or the teacher's conditions.
| | | | | |
| --- | --- | --- | --- | --- |
| 1-week Course | 2-week Course | Day | | Contents |
| Check-in | Check-in | 1 | Sun. | Housing check-in |
| | | 2 | Mon. | Barista training (2 hours・Basic) |
| | | 3 | Tue. | Barista training (2 hours・Basic) |
| | | 4 | Wed. | Barista training (2 hours・Basic) |
| | | 5 | Thu. | Coffee factory guided visit |
| | | 6 | Fri. | free |
| Check-out | | 7 | Sat. | free |
| | | 8 | Sun. | free |
| | | 9 | Mon. | Barista training (2 hours・Advanced) |
| | | 10 | Tue. | Barista training (2 hours・Advanced) |
| | | 11 | Wed. | Barista training (2 hours・Advanced) |
| | | 12 | Thu. | Tableware shop guided visit |
| | | 13 | Fri. | free |
| | Check-out | 14 | Sat. | Housing check-out |